A Picture a day for 365 days...a year's worth of fun!
Legos make anybody...no matter how old...feel like a kid again!

Monday~3/365
Boys had their first basketball practice tonight...this is our off year so that means 2 different teams...Colin is on the Maroon Demons (9-10 yr) & Brendan is a Yellow Scorpion (11-12yr).

Tuesday~4/365
Both boys had ortho appointments after school...Colin Boy goes back in 6 months for another check...Brendan goes back in a month for start up...braces here we come!

Wednesday~5/365
AWE...Ryan & his Mini Me!

Thursday~6/365
Thursday was a rough day...one of the things that happened on this particular day...one of my students decided to use his scissors to cut a cord off of my listening station headphone jack...I was NOT happy!

Friday~7/365
With the boys being on 2 different basketball and baseball teams, I am unable to coach cheer this year...just not enough minutes in the day...but I am willing to help out when needed...Friday was Cheer Try-outs and I was one of the judges!

Saturday~8/365
Saturday night was date night for me and my hubby!! The boys went to grandma & grandpa's house for the night and we headed out to dinner, some shopping and a movie with a friend. Can't remember the last time we had date night!


Sunday~9/365
Last semester I was in a Biggest Loser contest at school...for 18 or so weeks we weighed in each Monday with our final weigh in being the week we came back to school after our winter break...it was calculated just like the the Biggest Loser on TV with the biggest percentage of body weight lost...AND...I won!! I lost 43 lbs (53 lbs over all) with a 19% body weight loss...AND I won $432...so after church today I did some shopping!

Monday~10/365
While the boys are at basketball practice I am in the weight room working out

Tuesday~11/365
After losing all my weight...I needed new bras...very badly! So that is what I bought on Sunday when I went shopping!

Wednesday~12/365
So busy at school with progress monitoring all my kids to make sure they are making the progress needed to stay on track...and bummer that I had no prep for 3 days last week since the art teacher was out sick with no sub...so sad!

Thursday~13/365
Thursday after school, in between running errands and basketball practice, we attended the 3rd/4th grade Reading Camp Out at school. It was so cute...they had the cafe set up like a camp site with lots of different stations geared around literacy...and s'mores too! Here is Colin listening to his teacher read stories by the campfire!

Friday~14/365
Friday was the official start of the 2011 Wildcat Football Season...they had a team lock-in at the school where the incoming seniors take over the team...so while the team& coaches were playing, the boys and I headed to another coach's house to hang out and have dinner with his wife and kids. The boys played some table tennis after dinner!

Saturday~15/365
The first basketball games of the season...Colin's game was at 9am and Brendan's at noon...both boys played awesome and both came away with wins...Way to go Mac Boys!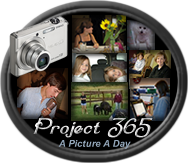 Join in with
Sara
...It's not to late to join the fun!