A picture a day for 365 days...a year's worth of fun!
Sunday~16/365
Brendan's friend Brennon spent the night on Sunday night since we had no school Monday due to MLK Jr. day. A pre-bedtime snack of warm cookies and milk! Yummy!

Monday~17/365
While outside playing basketball Monday afternoon, look who showed up?! Brendan was so very excited since they never came around at our old house!

Tuesday~18/365
Tuesday we celebrated the 100th day of school! Lots of fun with math centers, crowns, books, counting, a special 100 day trail mix and much much more!! This is a big day for students and teachers alike...the kids like it because it's a fun day to celebrate...the teachers like it because there is only 80 school days left until summer!

Wednesday~19/365
My 2 boys are as different as night and day. The past week the weather has been beautiful...still cool in the mornings but warming into the mid 70s by dinner time. We there are on the way out the door to school...if Brendan could wear shorts 365 days a year, he would! Brendan in shorts & t-shirt...Colin in jeans & a sweatshirt...different as night and day!

Thursday~20/365
Thursday after basketball practice I dropped the boys off at home and headed to Tiff's house to hang out and watch TV...on the way I stopped off at our fav fro yo place for a treat!

Friday~21/365
Friday afternoon we had Honor Assemblies at school. Both Brendan & Colin received Principal's Honor Roll (again!) for having straight A's for the entire semester....they also were put into a special raffle for an ipod shuffle...and guess who won?!...Colin Boy!! That's right, they drew his name and he won an ipod shuffle...he was so excited!!

Saturday~22/365
So Tiff found this amazingly awesome website the other day and it has now become a favorite with healthy, easy and yummy recipes...
Hungry Girl
is her name and yumminess is her game! This is a recipe that is a moist cake mix and one can of 12 oz. any kind of diet soda...that's it...mix together and bake as directed on the box! I made chocolate cake with Diet Dr.Pepper and topped it with a dusting of powered sugar...
OH. MY. YUMMINESS.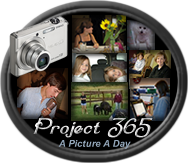 Join in with
Sara
...It's not to late to join the fun!