A picture a day for 365 days...a year's worth of fun!
Sunday~38/365
Here is the grid that I played...I had REALLY great numbers..but sadly did not win any quarters! Oh well. We spent the game at WCHS's head coach's house with his family...very low key, but still fun!

Monday~39/365
Brendan has found this super fun NLF Kids site that he has joined. Lots of games and interaction...kinda like Webkins but for older boys! He has lots of fun playing on it during his computer time!

Tuesday~40/365
As I was making lunches and getting ready for the school day, I glanced over at the kitchen table and this is what I saw...my sweet Colin Boy reading my Bible.
Wednesday~41/365
These were my BEST friends this week...I have had SO much sickness both at school and at home that I have been using them like water cleaning everything...here's hoping they work and get the yuckies outta here!

Thursday~42/365
I was a little late I guess getting the germies outta my house...Colin Boy woke up Thursday not feeling at all well. And since I was not ready for a sub at school, we all had to go in for least half a day. Thank goodness for great friends; Tiff came to the rescue and picked him up from school around 10am to bring him home until I could get there at noon. He slept most of the day and when I checked on him this was the sad pouty look he was sporting in his sleep!

Friday~43/365
We have finally come out of the dark ages and into the 21st century with DVR!! I am very excited to learn how to use it...this means I can see my fav shows that I miss because of the boys and their sports!!

Saturday~44/365
Well...I finally did it. I didn't think I was ready to do it, but someone at school asked me what I was gonna do with my old clothes. I have lost over 55 lbs and gone down 6 sizes...but I wasn't ready to clean my closet out yet...that is until someone at school was in need. I packed up a big box of my old clothes to give her...and now my closet is bare. I'm not gonna lie...it was really hard...they were my safety net...the what if is in the back of my mind...what if I go back...what if I need those clothes...I have to learn to let go and give it to God...here I am...giving it ALL TO GOD...but it's hard.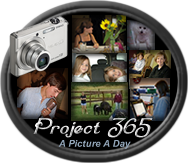 Join in with Sara...It's not to late to join the fun!