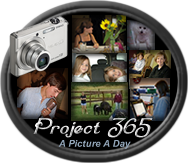 A Picture a day for 365 days...a year's worth of fun! I hope you have as much fun seeing a peek into my week as I am posting about it!


Sunday~282/365
Sunday morning took us to ASU's campus at the Wells Fargo Arena for our football association's cheer competition. We went to root on our Cobra Cheerleaders. They didn't place but they did a fantastic job! Here are the boys cheering for the girls as they came out onto the floor.
Halloween at the McCraken House...sports...did you expect anything less?!
Monday~283/365
I took a picture of my color combination today...I was loving the pink, black & white!
Tuesday~284/365
I voted on Tuesday...did you?

Wednesday~285/365
Aunt Judy & Uncle Frank came for a visit staying with grandma & grandpa...today they came over for a visit. We also hung out with them at Daddy's football game on Friday night.
Thursday~286/365
Well....the inevitable happened...sickness...blah! I think it's more allergies and sinus yuck than an actual sickness...and since all of the meds in our med cabinet were expired, new meds were in order! Both boys are feeling better, thank goodness!
Friday~287/365
After the game on the field; Brendan was at the 50 yard line all by himself...he was upset...this would end up being the Wildcats' last game of the season...they lost...no play-off birth for us...season over...so very sad.
Saturday~288/365
Saturday morning Ryan went to Dunkin' Donuts that just opened, up the street. YUM! And for coffee lovers they are offering free medium coffee for the entire month..too bad I don't like coffee...and too bad I do LOVE donuts...YUM!


After eating one to many donuts the boys and I headed to our school carnival. All grade levels had to host a booth through out the day...Kindergarten hosted the Lollipop Tree...object: pick a lollipop...if it has a green end you win a prize...if not you keep the lollipop...a win-win game if you ask me!

This is what Sara says on her blog about Project 365...
"I am attempting to take one photograph each day of this next year. My hope is to be able to slow down and see the small things, become a better photographer and to be reminded of the many blessings God sends my way! "

Well said Sara...thanks for letting me tag along!
Join in with Sara...It's not to late to join the fun!