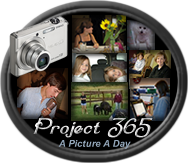 A Picture a day for 365 days...a year's worth of fun!

I hope you have as much fun seeing a peek into my week as I am posting about it!

Sunday~212/365
Monday I actually had a minute to breath so on our way home from school we swung by Ryan's football practice, since the boys didn't have practice. 3 days last week we had excessive heat warnings so the Wildcats had late practices.
Another Tuesday...Another HUGE storm. This is the view from my chair. NOT fun!
Wednesday~215/365
The boys have joined band...Brendan plays the trumpet & Colin plays the trombone. This is the first night they brought their instruments home...don't be jealous that I get to hear all that noise, oh I mean music!
Thursday night brings us to the first game of Coach Mac's 2010 football season! Normally they play Friday nights, but tonight they were being broadcast live on our local cable station! So very exciting. Ryan's defense were tough but not tough enough...they lost. Here is Ryan talking to his defense while the camera man was over his shoulder!
Friday~217/365
Not sure what happened but I missed a picture today...I was so excited that we had NOTHING after school! We actually had dinner as a family and hung out! that is 2 weeks in a row that I have missed a picture...promise to be better next week!
Saturday~218/365
Saturday brought us to the 1st game of the Cobras 2010 football season! Tough guys ready for some football!
This is what Sara says on her blog about Project 365...
"I am attempting to take one photograph each day of this next year. My hope is to be able to slow down and see the small things, become a better photographer and to be reminded of the many blessings God sends my way! "


Well said Sara...thanks for letting me tag along!
Join in with
Sara
...It's not to late to join the fun!