A picture a day for 365 days...a year's worth of fun!
Sunday~101/365
No picture for today...recouping from Country Thunder while doing laundry, cleaning house and and washing dishes!! Life doesn't slow down just cuz I'm not home...geesh!
Monday~102/365
Monday at the diamond...Ryan in the dugout waiting for the game to start and my new job...keeping the books. Not sure how I scored that job but I will admit that I pay much more attention to the game now!! Both boys won tonight...these double headers are gonna be the death of me!!
Tuesday~103/365
My vice...85 cents of pure goodness each and every school day...44oz of the best thing on earth...Diet Cherry Coke...
YUM
!
Wednesday~104/365
I spent HOURS getting plans ready for a guest teacher for Thursday and Friday...I was summonsed for Jury Duty and didn't know whether I would be out or not...well it was NOT...all that time I spent planning...wasted!
Thursday~104/365
Another double header...tonight Brendan was up against one of his good friends, Elijah. They have been friends for the past 7 years so it's always fun when we are up against one another...in all sports...football, basketball and baseball! Sadly the Cards didn't bring home a win, but fought hard against the Rangers.
Friday~106/365
Friday was the last day of our AIMS testing
(state wide standardized testing).
Kinders don't take this test, but since one of our kinder classes is in the 3rd grade hall we doubled up so they wouldn't disturb the classes that were testing. Friday was my day to have the class...over 40 kinders in one room all day long...I learned
(for about the millionth time!)
that silence is golden!!
Saturday~107/365
So when I started losing weight last summer, I didn't have a number that I wanted to lose in mind...I just wanted to be healthy and happy...and be able to wear 2 things that I haven't worn in probably over 10 years...my goal was to wear shorts and a strappy sundress this summer.
WELL
...I have reached half of my goal!!! I wore my first pair of shorts today in years!! Tiff bought them for me for my birthday!! I was so excited
(and a little self conscious!)
and am excited to go strappy sundress shopping very soon!!!
(for the record..I have lost over 60 lbs since last July!)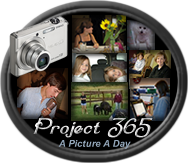 Join in with
Sara
...It's not to late to join the fun!