A picture a day for 365 days...a year's worth of fun!
Sunday ~ 178/365
Sunday June 26, 2011
Sunday found us at the park in the 114* heat for the first football conditioning session of the season. This is the first year that we have done this kind of thing before practice actually begins. The boys loved it but were sore the next day!
Monday~179/365
Monday June 27, 2011
I came home Monday from work to find this HUGE red mark on my Colin boy's face...yep...him and dad got into a wrestling match and the carpet won! OUCH!


Tuesday~180/365
Tuesday June 28, 2011
Tuesday I was one of the drivers on a field trip to Fry's Marketplace (a local grocery store) with Tutor Time. The kids were able to tour the store, learn about healthy eating, feel a lobster and try out some yumminess including a mini strawberry frappicino from Starbucks. It made for a very fun morning!
After work and dinner we headed, once again, back to the park for football. This will happen twice a week. With a new season starting, new cleats were a must.

Wednesday~181/365
Wednesday June 29, 2011
Wednesday after our summer fun movie we headed to friends' house for lunch, swimming and hanging out. Great fun for sure!



Thursday~182/365
Thursday June 30, 2011
Thursday I took Kayla to Kohl's to find a dress for a wedding that she was attending and while there I also found this big red dog...I love when Kohl's has story characters for $5...they make a great addition to my classroom and make story time even more fun! I heart Clifford!


Friday~183/365
Friday July 1, 2011
Friday afternoon we invited a new coach to WCHS and his family over to meet and visit. It's always fun to meet new friends, especially when they have the same interests! Coach M, his wife Jen and cutie pie daughter A, came over and brought these summer yummy, and HUGE, cupcakes to share! Makes me even more excited for the season to start!
Saturday~184/365
Saturday July 2, 2011
With the heat of the summer, we spend a lot of our time inside. This is a daily scene these days at the McCraken house! Most days Brendan doesn't even get outta his pj's! Oh well...such is the life of summer vaca!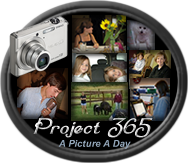 Join in with
Sara
...It's not to late to join the fun!