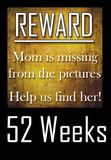 So
MiMi
over at
He & Me + 3
has been doing this great meme that insists moms come out from behind the camera. Since I am rarely in front of the camera, I thought it might be fun and join her and try to be in one picture a week. That is the object, for mom to be in just one picture through out the week and then post it and link it. You can link it over at
Carin
's the mom behind the camera at
Forever in Blue Jeans
. She is putting a Mr. Linky up every Thursday so you can check out the other missing moms out there!
So here is the first picture of this year long carnival. And as MiMi says, jump in now and join the fun! This was taken on Monday at Westgate. There are lots of fun stores and restaurants as well as Jobing.com Arena where the Phoenix Coyotes play their home hockey games. We are standing in front of the dancing fountains!
So give that camera to some one else, say cheese and join the fun!