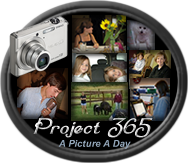 A Picture a day for 365 days...a year's worth of fun!
I hope you have as much fun seeing a peek into my week as I am posting about it!
Sunday~247/365
All 3 of the McCraken boys have fantasy football teams this football season so their Sundays usually consist of watching NFL games in front of the computer to see if they are winning with the players they have chosen to play for the week! The boys were so very excited that Ryan let them have a fantasy football team this year!


Monday~248/365
My Mom & Dad celebrating their 41st wedding Anniversary...here's to many many more! Love you!


Tuesday~249/365
Tuesday night at practice Brendan got this beauty from his shoulder pads pinching his neck...apparently it looked worse than it was because he said it didn't even hurt!



Wednesday after school it was a quick stop at Great Clips for haircuts...it was a necessity since they had school pics on Thursday, family pictures Saturday and football pictures today (Sunday).



Thursday the school where I teach did a fundraiser at Golden Spoon...a very yummy frozen yogurt shop. We stopped after practice on our way home...it's ok to have ice cream for dinner every once in awhile...isn't it?!


Friday~252/365
Friday was homecoming at WCHS...an exciting week for sure...Monday was the powder puff game and each day they had spirit days. Friday was the big game and the newly painted field with the giant Wildcat head on the 50 yard line.
Saturday~253/365
Saturday we had family portraits done. Stacey is a fellow coach's wife who owns her own photography business,
Life As You Live It Photography
. We did our shoot at the WCHS football stadium. She started by taking photos of the boys in their uniforms and we finished with family shots on the bleachers and field...can't wait to see them!
This is what Sara says on her blog about Project 365...
"I am attempting to take one photograph each day of this next year. My hope is to be able to slow down and see the small things, become a better photographer and to be reminded of the many blessings God sends my way! "


Well said Sara...thanks for letting me tag along!
Join in with
Sara
...It's not to late to join the fun!