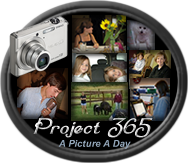 A Picture a day for 365 days...a year's worth of fun!
I hope you have as much fun seeing a peek into my week as I am posting about it!
Sunday~268/365
Sunday afternoon found us at a fellow coach's house to celebrate his beautiful little girl's 2nd birthday. A fun 2 hours spent with other coach's and their families while munching on yummy cupcakes...can't get much better than that!


Monday~269/365
2 boys + 2 new pair of shoes in MEN'S sizes = expensive
*sigh*

Tuesday afternoon was the start of parent/teacher conferences for me. This is the table I set up outside my door for waiting families.

Wednesday~271/365
Another LONG day spent at school. Ironically this was the time that I got to school in the morning and left school that night.

Our weather has finally began to cool off...cool enough for Colin Boy to sport jeans and a hoody to school for the first time since last February!

Friday~273/365
Friday night was game night (so sorry about the lack of Football Frenzy last week...CRAZY busy week with P/T conferences. There will be 2 this week, I promise!). This was our last away game, although we have 2 home games left in our season. This play shows Ryan's defense breaking up a pass play...almost intercepting it! They played an awesome game!

Saturday~274/365
Saturday was the last game for the boys on our home turf. This was their bowl game. It was a great game and hard fought. Both boys played awesome and all players and cheerleaders received these medals at the end of the game.

This is what Sara says on her blog about Project 365...
"I am attempting to take one photograph each day of this next year. My hope is to be able to slow down and see the small things, become a better photographer and to be reminded of the many blessings God sends my way! "

Well said Sara...thanks for letting me tag along!
Join in with Sara...It's not to late to join the fun!