A picture a day for 365 days...a year's worth of fun!
Sunday~59/365
Colin put up this sign on his door on Sunday afternoon...

...and here is the pirate he is talking about...

The story behind the pirate you ask...his dad was a pirate (in hs) and in the foyer of the high school there is a mosaic pirate head and if you stepped on it and were caught, you had to clean it with a tooth brush!! Well...Colin wants to be a pirate more than words can say but sadly we now live 2100 miles away...so this is the closest thing to Colin being a pirate...just like dad!!

Monday~60/365
Monday night...LAST night of basketball practice...YAY...BUT wait...don't get to excited...baseball practice starts NEXT Monday!!

Tuesday~61/365
Tuesday night was kindergarten round up at school from 5-7pm. All of the kindergarten teachers were there to meet the incoming kinder students. These were the kindergarten school readiness kit that the United Way gave us to hand out...they were actually really very cool with lots of summer activities, 3 books, CD and school supplies!

Wednesday~62/365
Wednesday we had a baby shower at school for a teacher who is having her first girl after 4 boys...she is so very excited to be getting some pink in her house!
Thursday~63/365
This week started Read Across America month and celebrates Dr. Seuss' birthday! My class had lots of fun reading books written my Dr. Seuss. My fav...The Cat in the Hat!
Friday~64/365
Friday was the Spring Fling at school...Brendan was too cool to go so Colin and I went. The first pic is Colin with is best friend Alex and the second pic is of the 2 of them in a dance contest...they had a blast and came in second!!
Saturday~65/365
Saturday was the last Saturday of basketball season...thank goodness, not one of my fav sports! So after their games they each were awarded participation trophies. And now that basketball season is over...bring on baseball season...it starts Monday!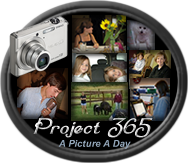 Join in with
Sara
...It's not to late to join the fun!