A picture a day for 365 days...a year's worth of fun!
Sunday~80/365
Sunday March 20, 2011
This is a fun aiming game that the boys got from one of their friends. Get the ping pong ball in the cup...that's it...but at our house it has become the EXTREME game of get the ping pong ball in the cup game!!
Monday~81/365
Monday March 21, 2011
Tonight was supposed to be the boys opening night of baseball...first game of the season...mother nature had other plans and here in AZ, on this first full day of spring, the temperature didn't get near where it needed to be (for AZ) and it rained ALL day...so games were canceled and I came home and curled up with a nice mug of steaming hot tea while my new Gold Canyon Dazzle Berry candle burned the cold night away.
Tuesday~82/365
Tuesday March 22, 2011
Brendan has joined the Fitness Club at school on Tuesday afternoons. It is facilitated by one of our PE teachers and he teaches the kids the correct and safe way to stay fit while having fun! Here is Brendan doing one of the exercises...mind you this pic was taken after club was over and all of the other kids were gone...heaven forbid I embarrass him by taking pics during fitness club!!
Wednesday~83/365
Wednesday March 23, 2011
Kayla cutting Brendan's hair for school pics tomorrow
Thursday March 24,2011
HAPPY BIRTHDAY RYAN!!
Today we celebrated Ryan's thritysomething birthday. Sadly he woke up not feeling so well...bad head cold and since the boys had baseball practice after school we will really celebrate on Saturday!
Friday~85/365
Friday March 25, 2011
This is what we came home from school to find...our sliding glass door shattered. We think our landscaper must have shot a rock while fixing up the backyard, which hit the door and shattered it. Sadly they were gone when we got home and now they are not answering any calls or texts from us...we are NOT so happy.
Saturday~86/365
Saturday March 26, 2011
Saturday was a fun busy day for us....Colin was invited to sing in our school districts elementary school honor choir. Twenty elementary schools in our district sent their best singers for an awesome performance of a Disney melody...Colin did AWESOME! I was so very proud of him!
After the concert we had our family birthday party at our house to celebrate Brendan's birthday, my sister Jennifer's birthday and Ryan's birthday (all March babies!) I made shrimp boil for dinner...OH MY YUMMINESS!!!
And when there's a birthday party there's gotta be presents!! Here is Brendan with the last of his birthday stash!!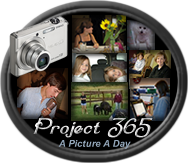 Join in with
Sara
...It's not to late to join the fun!