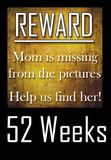 Are YOU a mom? Are YOU missing from the pictures? Most moms I know are, but here is a fun meme that brings us moms out from behind the camera and puts us into the spotlight! Carin over at Forever In Blue Jeans is the hostess for this year long picture project! It is lots of fun, and just think after 52 weeks there will be at least 52 pictures of YOU in them! It can be scary, but com'on, give it a try! It's easy, all you have to do is hand over the camera and smile (or not, it's completely up to you!). And the best part is, you can jump in whenever; for me this will be my 21th week!
I have a few that I would like to share today from my trip to MI! We were there for a week and had so much fun! We have only lived in AZ for the last 5 years, so going back to MI is like going home! And of course the weather there during the summer is so much more cooler....aaaahhhhh! And one of the things that I miss the most....day light savings, and how much later is stays lighter!
On our last day in MI, MiMi took us to a park near her house to do a photo shoot of my boys. I am still in the process of going through and editing the 300+ pictures that MiMi took, which are fabulous by the way, but Colin was able to sneak in a few too, while Mimi was snapping away! Here is a picture of Stunt Man and me. I love this little man so much, it hurts my heart!! Oh, and he is my Godson too!
On Friday, I was able to leave the boys with my parents and meet up with these 2 lovely ladies! And
of course
all 3 of us blog, which makes it even more fun! Here we are posing while Stunt Man snaps the picture:
Tarah
,
MiMi
and Me!
Here I am with my Nannie, who is my Mom's mom. She is 89 years old and not in the greatest of health, but she holds her own. Back in
March
we thought she was going to meet Jesus, but He had His plan and she is still with us today. She lives in an assisted living center not to far from my parent's house in Michigan due to Alzheimer's and Dementia. She didn't remember my name, but while I was there had a
'good'
day, as my mom described it. She was alert and smiled and laughed
a lot
. I was able to see her twice while there, once with the boys and once by myself. It makes me sad that she doesn't remember me, but I know she loves me and that is all that really matters!
Love you Nannie!
I was able to meet up with 2 of my cousins and their kids while there too! It is always fun to get with these girls! We are very close in age and grew up together! Trish, the cousin on the left, is the same age as I am, so we did
EVERYTHING
together....
hung out, danced together, double-dated
...we stood up in each other's wedding and now her oldest and my youngest are the same age! Sue, the cousin and the right, is just a few years older than us, but that didn't stop us from playing Charlie's Angles growing up!
You know what I am talking about!!!
She, too, has a daughter the same age as Colin! When all of the cousins are together, they have so much fun!
Here I am outside the
bestest
ice cream stand in the
whole wide world
! It is so yummy! I made MiMi bring us here while out on Thursday and it was just as I remembered it! It was built in 1947 and still in the original building! My hubby used to come here as a kid and brought me here while we were dating and then married and then we started bringing our kids here! Not sure why Colin was pouting...
maybe cuz his ice cream was all gone!!
And last, but
certainly
not least...here I am with my mom and dad the last day that I stayed with them! Having only a week to visit everyone is like a whirlwind
...literally
speaking! We spent 2 and a half days with my parents, 2 days with my in-laws and 2 and a half days with MiMi and the gang from
He & Me + 3
! Next year I would like to spend a few more days, but I will take what I can get!
I know that I have lots more pics of me from this trip...but I will save those for another time! I enjoyed looking through all of my 800,
yep that's right 800
, pictures for pics of me!
Now it's your turn to join the fun! It's easy, hand the camera over, smile and say cheese!