Before diving in my Project 365...I would like to do a special shout out to the 3 special dads in the McCraken Family!
First & foremost...
Happy Father's Day to my hubby Ryan. He is a great Dad and deserves this special day! Hope you have a great day Ry!
WE ♥ YOU LOTS!
A special Happy Father's Day to my DAD! You are a great dad and grandpa! Thanks for all you do and all the memories you help make! Hope you have a great day!
We ♥ you!
And last but not least...Happy Father's Day to my FIL Lloyd! You are a great dad and Papa! Hope you have a great day and can't wait to see you in a few weeks!
We ♥ you!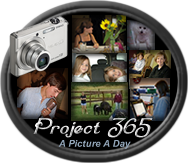 A Picture a day for 365 days...a year's worth of fun!
I hope you have as much fun seeing a peek into my week as I am posting about it!

Sunday~142/365
Today we drove 3 hours North to drop Colin off at Camp Candlelight! He was so excited! A whole week away having fun! It was a lonely and quiet ride home for me and Ryan!

Monday~143/365
Monday I got to watch this cutie! She is a new member of the WCHS coach's kids club..Tori is her name and she is 7 weeks old! I loved being able to snuggle and love on her!
Tuesday~144/365
Tuesday Baby Z and mom Crystal came over for a dip in the pool! How cute is that frog floatie?!

Wednesday~145/365
Wednesday Brendan & I headed over to
Stacey's
house for coffee (or in my case, tea) time. Lots of fun with friends hanging out! The kids ran through the sprinkler and also took a dip in the pool.
Thursday~146/365
Thursday I was invited to come and watch a dress rehearsal for a dance recital. The dance recital is Saturday, but since I had to go and get Colin from camp I couldn't go. I was excited to see Payton (above) & Teagan (below) dance their hearts out! Once upon a time I was a dancer and since I have 2 boys...well you know!
Friday~147/365
Friday was Brendan's last day as an only child! We let him pick his restaurant of choice for dinner...IHOP it is! And what a deal as kids eat free 4-10pm! Who doesn't love breakfast for dinner?!

Saturday~148/365
Today's the day...we become a family of 4 again! I sure missed Colin but he had a blast! I can't wait to share more about his fun time at Camp Candlelight!
This is what Sara says on her blog about Project 365...
"I am attempting to take one photograph each day of this next year. My hope is to be able to slow down and see the small things, become a better photographer and to be reminded of the many blessings God sends my way! "


Well said Sara...thanks for letting me tag along!
Join in with
Sara
...It's not to late to join the fun!