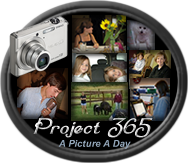 A Picture a day for 365 days...a year's worth of fun!
I hope you have as much fun seeing a peek into my week as I am posting about it!

Sunday~135/365
With this being my parent's first summer spent out in AZ we had a family BBQ on Sunday! This was also the first time they swam in our pool. They used to be snow birds and since our pool is not heated it is too cold in the winter to swim. We had lots of laughs and family fun! This picture is of us eating...I was having too much fun swimming to snap pictures of us in the pool! Maybe next time!
The boys have been working very hard to earn their stars for their star charts. If you missed that post and want to read all about it,
read here
! Well on Monday they each met their 10 star goal! They choose to get a treat for our upcoming in vaca for the car ride! Once they each earn 10 stars they start over!
Tuesday~137/365
Colin is my sleeper! Doesn't matter what he's doing or where he's at or what time it is...if he's tired, he's gonna nap! And he usually doesn't tell anyone either...we just go lookin' and this is what we find! All snug as a bug in a rug!
Wednesday~138/365
Wednesday after football practice we loaded up the car and headed North West to Laughlin Nevada. We went to the Avi Resort with some family friends for a few days and had TONS of fun! The is the pool that we swam in.
Thursday~139/365
Just one of the many many pictures I took of the boys while on our mini vaca! This was at the pool in the kiddie part...they had water sprayers!
We stayed from Wednesday to Friday. Not only did they have a pool but they had a beach right on the Colorado River! The boys had so much fun playing in the sand; they would rather be there than the pool. Ryan spent most of his time inside at the casino, but on Friday morning before leaving we talked him into heading to the beach for some fun and pictures! Love this one of them walking. The entire resort was so much fun and so beautiful! I will be posting more on that this week!
Saturday~141/365
Here is Colin all ready for camp! As you read this we will be on our way up to Northern Arizona (a 3 hr drive each way from our house to camp) to drop Colin off at Camp Candlelight. This is a camp specifically for children with epilepsy. (for those who don't know, Colin was diagnosed with Childhood Absence Epilepsy in January). He is so very excited! He has never been to camp before and now he gets to go for an entire week and I don't have to worry about him because he will be with trained professionals and getting his meds and having a blast! This will be a great opportunity for him!! Can't wait to blog about this either!
This is what Sara says on her blog about Project 365...
"I am attempting to take one photograph each day of this next year. My hope is to be able to slow down and see the small things, become a better photographer and to be reminded of the many blessings God sends my way! "


Well said Sara...thanks for letting me tag along!
Join in with
Sara
...It's not to late to join the fun!