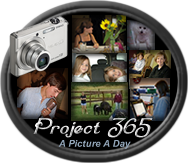 A Picture a day for 365 days...a year's worth of fun!
I hope you have as much fun seeing a peek into my week as I am posting about it!
Sunday~226/365
Sunday we went to my parent's to hang out for a bit. They have a bocci ball court across the street from the house and since moving into their new house the kids have been wanting to try it out...so they did!
Monday~227/365
Happy Labor Day! Ryan had football meetings, film & practice today and was gone from 12-8:30pm so the boys and I headed to another coach's house to hang out and have dinner with his wife and boys! We wives gotta stick together! Thanks Stacey for a fun afternoon!
Tuesday~228/365
Getting up for school after a 3 day weekend was not my cup of tea...another school morning another morning of lunch making!
Wednesday~229/365
Today my niece Kennedy turned 13...watch out world...another teenager is among us! Happy Birthday Keni...♥ you!
Thursday~230/365
Thursday while at football practice I corrected the first math test of the year, did grades and got my grade book ready for progress reports to go home on Friday...can you believe that we have been in school for 5 weeks already? Yea, me neither!
Friday~231/365

Friday night=game night...and in honor of 9-11 they honored military, firefighters, police & first responders. It was really very nice and the cheerleaders wore red white & blue bows in their hair. They also held up the American flag while both bands played God Bless America during half time.
This is what Sara says on her blog about Project 365...
"I am attempting to take one photograph each day of this next year. My hope is to be able to slow down and see the small things, become a better photographer and to be reminded of the many blessings God sends my way! "


Well said Sara...thanks for letting me tag along!
Join in with
Sara
...It's not to late to join the fun!