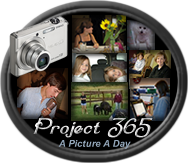 A Picture a day for 365 days...a year's worth of fun!
I hope you have as much fun seeing a peek into my week as I am posting about it!
Sunday~240/365
Sunday Ryan took my car in for an oil change and car wash...it looks so very pretty...Thanks Ry!

Monday~241/365
Monday after school the boys & I stopped at Wal-Mart for some quick groceries. And because they had each earned close to 30 stars since the first day of school (and they both got amazing progress reports) they each got to pick out a new video game.

Tuesday~242/365
Remember that gift card I won last week??...well Tuesday we put it to good use for some yummy subs. And the best part is the deals they have going on...3 footlongs for $12 & 1 footlong for $5...that got us dinner on Tuesday after practice and lunch for Wednesday...can't beat that!

Sadly no photo for Wednesday...Ryan had football...he came home...we all ate (very quickly) and then he left with Colin to head to the freshman football game...I went to my parents for an hour to help my mom download pictures...so crazy night = no photo...


Thursday I helped inventory, separate and deliver over 500 tubs of cookie dough. This was our big fundraiser for the boys' football team.

Friday~245/365
Friday Night Lights
WCHS Wildcats vs. VV Monsoon
our in-district rivals

Saturday~246/365
Saturday was HOT. The boys played their game on the practice fields of the Arizona Cardinals at the University of Phoenix Stadium.
This is what Sara says on her blog about Project 365...
"I am attempting to take one photograph each day of this next year. My hope is to be able to slow down and see the small things, become a better photographer and to be reminded of the many blessings God sends my way! "


Well said Sara...thanks for letting me tag along!
Join in with
Sara
...It's not to late to join the fun!