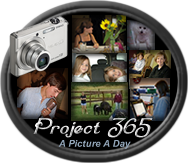 A Picture a day for 365 days...a year's worth of fun!

I hope you have as much fun seeing a peek into my week as I am posting about it!
Sunday~219/365
Meeting up with my college best friend and roommate Julie. She and her family were visiting Arizona for a family vaca so we met at Out of Africa Wildlife Park for the day. We had lots of fun and took lots of pictures which will be in another post!
Monday~220/365
I have joined a site called mysurvey.com. I take online surveys for points which I can trade in for lots of different things. One of my surveys was to try a new cereal that is not even on the market and review it. It was pretty good...Colin liked it best!


Tuesday night = football practice


I switched out my bulletin board at school with some artwork related to our reading theme.
What are you hands for?!
Thursday~223/365
In my class I encourage good behavior with a marble jar. When they are on task, working quietly, walking in the hall in a line quietly...they earn marbles. When they earn all of the marbles they get a 'marble jar party'. Today was our first marble jar party. It is a surprise for the kids until snack time...I found these fun letter fruit snacks! How educational!
Friday~224/365
Friday Night Lights...WCHS brings home a win against the SM Jaguars...keep an eye out for my Football Frenzy post coming soon!

This is what Sara says on her blog about Project 365...
"I am attempting to take one photograph each day of this next year. My hope is to be able to slow down and see the small things, become a better photographer and to be reminded of the many blessings God sends my way! "


Well said Sara...thanks for letting me tag along!
Join in with
Sara
...It's not to late to join the fun!