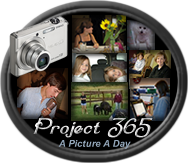 A Picture a day for 365 days...a year's worth of fun!
I hope you have as much fun seeing a peek into my week as I am posting about it!
Sunday~233/365
Sunday I took my niece out for some birthday shopping. We stopped for lunch at Johnny Rockets where they have these fun straw dispensers!

Monday~234/365
Every Monday our school has early dismissal which means the students are dismissed an hour earlier than every other day. But that also means a 2 hr professional development for teachers...EVERY Monday. This past Monday they had some prizes and I won! Yay for me! $5 gift card to Subway!


Tuesday~235/365
While at a stoplight on my way home from school I was able to capture a jet landing. We have an air force base not far from our house so we see lots of jets flying. Love the mountain in the background.


Wednesday Colin and I went up to the freshman game for a half. Ryan always stays to watch after practice so we came up to surprise him, cuz ya'know, we don't have enough football in our week! Oh and the frosh WCHS Wildcats won BTW!



Thursday I got a call from Brendan's teacher asking if I would like a skit performed for my class. I said...SURE! Brendan's group made up a skit to America the Beautiful. The 2 boys acted out as the 3 girls sang the song...it was really very good! I love teaching where the boys attend.

Friday~238/365

Friday I quartered 20 oranges for Saturday's Cobras football...I was one of the snack moms! And if you notice 1 baggie with no orange but instead a granola bar...that is because Brendan refuses to eat fresh fruit, so that is his half time snack.

YES
that is 4:53 in the morning and
NO
it was not by choice. Boys had a game at 8am which means we need to be to the field by 6:30am and since the field was a 45 min drive away we left the house at 5:35am. I was up first and woke the boys about 5:05am so they could get dressed, eat and brush some teeth.
This is what Sara says on her blog about Project 365...
"I am attempting to take one photograph each day of this next year. My hope is to be able to slow down and see the small things, become a better photographer and to be reminded of the many blessings God sends my way! "


Well said Sara...thanks for letting me tag along!
Join in with
Sara
...It's not to late to join the fun!