OK...Well I am finally back after a wonderful 2 week vacation with friends and family! I had a very fun and relaxing time; but now back to reality! I am catching up on 2 weeks worth of my project 365! Hope you enjoy!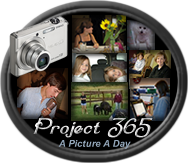 A Picture a day for 365 days...a year's worth of fun!
I hope you have as much fun seeing a peek into my week as I am posting about it!
My 2 boys and their 4 cousins standing on the deck overlooking the lake at Gramma & Papa's lake house. This is where we spent the first part of our vacation!

Monday~164/365
The boys standing in front of a special park by our old house.

Tuesday~165/365
One of our favorite ice cream joints back in Michigan...YUM!


Wednesday~166/365
Wednesday night we headed to a special friend's house for dinner. It had been at least 4 years (maybe longer) since seeing Sarah and her family! It was fun to catch up!
Thursday~167/365
Free Summer Bowling...can't ask for anything more...especially on a rainy day!
Friday~168/365
Friday found us at the water park...fun times in the pool, waterslides, lazy river and water fun house! Great way to cool off on a hot afternoon!

Saturday~169/365
Saturday we headed to a minor league baseball game with the clan from Mimi's house! Lots of fun...Actress & Colin were able to be the Bat girl & boy and all of the kids got a baseball! They were able to run the bases and pose with players and get autographs too! So much fun and the best part...The Oakland Cruisers brought home a win!
Sunday~170/365
Sunday I met up with my high school best friend. In the last 18 years this is only the 2nd time we have been able to catch up. We lost touch after our sophmore year in college and then she found me in 2001 and we met for lunch. Now 9 years later we have reconnected thanks to facebook and were able to meet over breakfast and catch up! It was great to see you Kristie!

Monday~171/365
Dinner with friends! Jake is an awesome baseball player and after dinner was on his way to one of his games. If his team wins their next tourney they will head out our way for the Nationals! And that is what we are hoping for! Great to see you Lisa & Jake!
Tuesday~172/365
On our way back to AZ after a wonderful 2 weeks in MI!
Wednesday~173/365
Here is Ryan & Brendan getting ready for fantasy football season. Ryan has always been big into fantasy football & baseball and this year he is allowing Brendan to manage his own fantasy football team. Can I just tell you how excited Brendan is! He watched Ryan draft his team on Wednesday to get ready for his own draft on Thursday!
Thursday~174/365
Thursday morning I woke up to find Brendan mapping out his draft! He made a list in the order that he wanted to draft his players. At noon he was involved in a 'live' draft for his fantasy football team...he is really getting into this!
Friday~175/365
3 words....HOLY HOTNESS BATMAN!


Saturday~176/365
And so it begins...again...football season that is! Saturday was the day of the first team meeting for the boys' football season. It was also equipment handout. Ryan leaves today (Sunday) for his week up north with his team for football camp. We will be into the full swing of things on Monday August 2...
don't be jealous
...
lucky me
!
This is what Sara says on her blog about Project 365...
"I am attempting to take one photograph each day of this next year. My hope is to be able to slow down and see the small things, become a better photographer and to be reminded of the many blessings God sends my way! "

Well said Sara...thanks for letting me tag along!
Join in with Sara...It's not to late to join the fun!