Sorry Sorry Sorry this is so very late! I have been having fun on vacation and playing at the lake house and well just....enjoying summer! But nonetheless...here is my Project 365!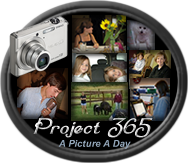 A Picture a day for 365 days...a year's worth of fun!
I hope you have as much fun seeing a peek into my week as I am posting about it!

Sunday~156/365
Mitzi, one of Ryan's students (who is also one of the football managers) came over and had dinner with us on Sunday. She is so sweet...I just love her (as do the boys!).

Monday~157/365
Boys...pre-haircut.
Tuesday~158/365
And we are on our way...red-eye to Michigan. The flight attendant hooked us up with some yummy treats
(for free)
before taking off!
Wednesday~159/365
After a short nap (jetlag....3 hours plus red eye flights make for some very cranky McCrakens!) we headed to Gramma & Papa's lake house and played some games before actually heading to the lake!
Thursday~160/365
The boys were trying to catch fish using a white bowl & their hands...think they caught any this way??!
Friday~161/365
Friday afternoon we headed into town and ate at an A&W (old-fashioned) drive-in! So yummy & lots of fun...the boys had never eaten at one before!
Saturday~162/365
Saturday our cousins came to play at Gramma & Papa's lake house too! We got to decorate their boat for a 4th of July boat parade and ourselves!! Lots of fun swimming, playing, eating, and hanging out!
This is what Sara says on her blog about Project 365...
"I am attempting to take one photograph each day of this next year. My hope is to be able to slow down and see the small things, become a better photographer and to be reminded of the many blessings God sends my way! "


Well said Sara...thanks for letting me tag along!
Join in with
Sara
...It's not to late to join the fun!