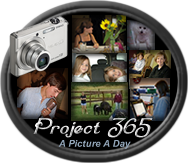 A Picture a day for 365 days...a year's worth of fun!
I hope you have as much fun seeing a peek into my week as I am posting about it!

Sunday~177/365
Me...all by myself on mine & Ryan's 12th wedding anniversary! Sad but true...he left to go to football camp in the morning. Oh well...such is the life as a football coach's wife!
Monday~178/365
We love to take night swims!



Tuesday~179/365
Tuesday found us at our city's aquatic center. We try and head there a few times a summer. They have 2 water slides, zero depth pool with fountains, whirlpool, pool, lap lanes and a deep well with diving boards...which happens to be the only reason Colin wants to go there!
Wednesday~180/365
The first part of the week, my niece Kennedy came to stay with us and she taught the boys how to make friendship bracelets. Brought back lots of memories...I used to make these when I was their age!
Thursday~181/365
My new addiction since I am home husbandless. I do not sleep well when Ryan is not here so I would spend lots of late nights playing this...Vegas Nights!

Friday~182/365
My mom had given me some Amish Friendship Bread...well after the 10 days I used the batter to make all this yumminess!
Saturday~183/365
Saturday night the boys asked if they could 'camp out' in the living room. They wanted to watch Bedtime Stories on TV and it was on kinda late...so I let'em! Only 2 weeks until school starts...gotta get it outta their system before we hit the school schedule.
This is what Sara says on her blog about Project 365...
"I am attempting to take one photograph each day of this next year. My hope is to be able to slow down and see the small things, become a better photographer and to be reminded of the many blessings God sends my way! "


Well said Sara...thanks for letting me tag along!
Join in with
Sara
...It's not to late to join the fun!