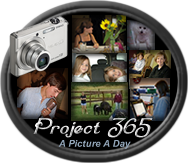 So I have seen this fun, year long project over at
MiMi's
and
Tarah's
for the last few weeks and have been contemplating on doing it...so I decided to just do it! Just do it they said....every one's doing it...so...I gave in and I'm doing it!!! I have had a lot of fun making sure I have pics from each day of the week...kinda challenging when you are a busy mom of 2 active boys and football coaching husband...
but nonetheless
...I am gonna try my hardest to geter done!
I am starting a tad bit late, but I am gonna start from the beginning and just go into the next year! I am playing a little catch up for this past week with pics that I didn't use when I posted about some of our adventures!

I hope you have as much fun seeing a peek into my week as I am posting about it!


So without further ado...


Saturday~001/365

WCHS Varsity Football Banquet...one of the yummy deserts!
Sunday~002/365
Ryan posing with each sister on our snow getaway!
Andrea to the top & Silvia to the bottom!
Monday~003/365

The view from the car window of the AZ mountains on our drive home from Williams.
Tuesday~004/365

100th Day of school...fun activities surrounding the #100!
Wednesday~005/365

Rain Rain GO Away!
In 3 days last week, we got more rain than we got for all of last year!
Thursday~006/365
Colin waiting for the Dr to come in!
Friday~007/365
My girls cheering at a basketball game!
Yes...I coach cheerleading...don't be jealous!
Saturday~008/365
The boys bring home a V.I.C.T.O.R.Y. from their Saturday morning basketball game! Way to go Purple Vipers!


Sunday~009/365

My book of choice at the moment...almost done with it!


This is what Sara says on her blog about Project 365...
"I am attempting to take one photograph each day of this next year. My hope is to be able to slow down and see the small things, become a better photographer and to be reminded of the many blessings God sends my way! "
Well said Sara...thanks for letting me tag along!
Join in with
Sara
It's not to late to join the fun!