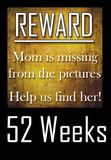 Are YOU a mom? Are YOU missing from the pictures? Most moms I know are, but here is a fun meme that brings us moms out from behind the camera and puts US in the spotlight! Carin over at Forever in Blue Jeans is the hostess of this year long picture project; and just think, after a year, you will have at least 52 pictures with you in them! It can be scary, but com'on, give it a try! It's easy, all you have to do is hand over the camera and smile (or not, it is completely up to you!!). And the best part is, you can jump in and start whenever; for me this will be my 40th week!

Over
MLK
weekend, in which we had no school on Monday, we went back up north to play in the snow again! The boys were so excited and this time we took some very good family friends up with us who have not had a lot of snow experience! Sisters Andrea and
Silvia
joined us for our fun snow get away! I will post more about our fun times tomorrow!
Brendan was so excited to go sledding, but sadly on his first run he got hurt and refused to go down again...whatever! So he pouted for a bit and then found some fun by fixing someone else's snowman until we were ready to leave!

And I did go down the hill,
once
, on a sled!
Now it's your turn to
join
the fun...hand the camera over, say cheese, and smile!