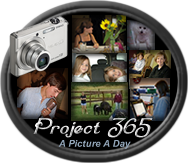 A Picture a day for 365 days...a years worth of fun!

I hope you have as much fun seeing a peek into my week as I am posting about it!
Monday~010/365
Every Monday morning I get to school bright and early to get my Literacy Stations ready for my Reading Core time. The students have great fun learning through playing!!
Tuesday~011/365

Story of my life...boys, boys, and more boys...

Wednesday~012/365
How much fun can one boy have with a deflating balloon?!
Thursday~013/365
Yes...I am 30 something years old and I still wear a bow in my ponytail!!


Red Robin...YUM!

Saturday~015/365

Happy 3rd Birthday Owen!
Sunday~016/365
Family favorite....banana pancakes!

This is what Sara says on her blog about Project 365...
"I am attempting to take one photograph each day of this next year. My hope is to be able to slow down and see the small things, become a better photographer and to be reminded of the many blessings God sends my way! "
Well said Sara...thanks for letting me tag along!
Join in with
Sara
It's not to late to join the fun!