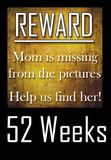 Are YOU a mom? Are YOU missing from the pictures? Most moms I know are, but here is a fun meme that brings us moms out from behind the camera and puts US in the spotlight! Carin over at
Forever in Blue Jeans
is the hostess of this year long picture project; and just think, after a year, you will have at least 52 pictures with you in them! It can be scary, but com'on, give it a try! It's easy, all you have to do is hand over the camera and smile (or not, it is completely up to you!!). And the best part is, you can jump in and start whenever; for me this will be my 38th week!
So I mentioned on Tuesday that I had some pics of me sledding but I was saving it for another post...well...here is another post! I was saving it for pics of me!

Look at me go...I went down once by myself...and once with Ryan. That was enough for me...as I knew I would be more than sore the next day...and I was!! But it was so much fun!

Here we are posing 3/4 of the way up the sledding hill
What a beautiful view...the mountains...not us!!!
And here comes me and Ryan!! With all that weight...we were flying!
We had so much fun that we are going back up to Williams over our 3 day weekend in a few weeks! We weren't even on the road when the boys were asking when we were coming back!
Now it's your turn to
join
the fun...hand the camera over, say cheese, and smile!