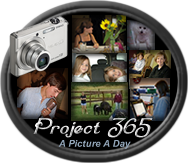 A Picture a day for 365 days...a years worth of fun!

I hope you have as much fun seeing a peek into my week as I am posting about it!
Here we, well actually just Colin, are on a
late
Monday night....staying up before his EEG the next day. We watched TV, played video games, & goofed around on the computer until it was bedtime!
Tuesday~018/365
A very blurry picture of my visitors badge that I had to wear when we went to PCH on Tuesday for Colin's EEG.
Wednesday~018/365

3 very tired boys just before heading to bed!
Thursday~019/365

Colin & Dr. B
Friday~020/365
This is my view most mornings on my way to school...
God is so good
! He shines His
Son
on us daily here in the Valley!
Saturday~021/365
I spent most of my Saturday in a cheerleading stunt safety class...
not my ideal place to be
, but my cheerleaders will be very happy to be able to stunt now that I am certified!
Sunday~022/365
3 boys + 3 haircuts = very handsome McCrakens!!
This is what Sara says on her blog about Project 365
..."I am attempting to take one photograph each day of this next year. My hope is to be able to slow down and see the small things, become a better photographer and to be reminded of the many blessings God sends my way! "

Well said Sara...thanks for letting me tag along!
Join in with
Sara
It's not to late to join the fun!