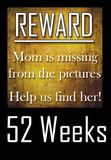 Are YOU a mom? Are YOU missing from the pictures? Most moms I know are, but here is a fun meme that brings us moms out from behind the camera and puts US in the spotlight! Carin over at Forever in Blue Jeans is the hostess of this year long picture project; and just think, after a year, you will have at least 52 pictures with you in them! It can be scary, but com'on, give it a try! It's easy, all you have to do is hand over the camera and smile (or not, it is completely up to you!!). And the best part is, you can jump in and start whenever; for me this will be my 42nd week!



So as most of you know... we have been in the midst of taking Colin to a neurologist at Phoenix Children's Hospital...well on Tuesday he went in for his EEG.

I had to keep him up until Midnight on Monday and wake him up at 4am Tuesday for his test, they needed him to be sleep deprived, which made me sleep deprived!! We had to check in at 7:30 am for his 8:00 am procedure.

They took us back to the 'testing/sleeping' zone to prepare.
Valerie and Zach were his techs!

There's my boy all hooked up! I called him "Skittle Head"!!

Since he had to sleep for part of his test, they wrapped his head mummy style so that none of the nodes would fall off.
He was so tired!

They did all different sorts of tests to read his brainwaves...light tests, hyper ventilation tests and then watched his brainwaves as he slept...in all, we were there for about two and a half hours and he went into many induced seizures.

Here is me and my boy when they were all done and ready to take off his wrap.
Colin with his techs, Valerie & Zach...they were so great!
Getting all cleaned up...he was actually going into a seizure as I took this picture...you can tell by his eyes...
On our way out, he asked to have this picture taken with this very cool coyote...it was made totally out of broken toys!
After leaving the hospital we went and had lunch with Ryan at school...we took Subway...yum!
Then home to take a shower and then naps!
Today we have our follow-up appointment with Dr. B, but we kinda already know what he is gonna tell us...that Colin does indeed have......Childhood Absence Epilepsy...
Zach, the tech, told me that on Tuesday. He said to keep an eye on him and not let him swim, ride his bike or play outside alone until he gets his meds.
So today's appointment will be about treatment, I am sure. With Colin on daily meds, he should lead a very 'normal' happy childhood!
Thanks to all of my great bloggy friends for the thoughts and prayers...they were and are greatly apprecitated!
Now it's your turn to
join
the fun...hand the camera over, say cheese, and smile!