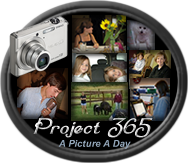 A Picture a day for 365 days...a year's worth of fun!
I hope you have as much fun seeing a peek into my week as I am posting about it!
Sunday~030/365
Our heart day consisted of a giant heart shaped chocolate chip cookie that yours truly made and games of Sorry Sliders! Good fun!
Monday~031/365
Monday we had off of school for President's Day so we headed to the movies! Ryan and I saw Valentine's Day and the the boys say The Tooth Fairy. Luckily both movies were playing at the same time at the same theater and were about the same length...so Brendan got Ryan's phone (which he thought was
so
cool) and we texted back and forth
(on silent)
throughout the movie to make sure they were ok! Both movies were very good! Not sure why Brendan looks as mad as he does in this pic...we all had a very good time!!
Tuesday~032/365
We got our first box of Girl Scout cookies...shortbread...yummy! Brendan hijacked them!
Wednesday~033/365
A daily sight...Ryan on the computer!!
Thursday~034/365
Can you say...GIRL SCOUT COOKIE ADDICTION?!

Friday~035/365

The girls basketball team was victorious in their last game of the season and there are my cheerleaders making a victory tunnel for them to run through! Way to go Lady Jets!


Saturday~036/365

Lazy day of laying around watching the Olympics...we love the curling!!
Sunday~037/365
Our new norm...Colin was still having some seizures while on his meds so they upped his dosage and he now takes 750mg of Ethosuximide daily. He is so great about taking his meds and is usually reminding me!
This is what Sara says on her blog about Project 365...
"I am attempting to take one photograph each day of this next year. My hope is to be able to slow down and see the small things, become a better photographer and to be reminded of the many blessings God sends my way! "


Well said Sara...thanks for letting me tag along!
Join in with
Sara
...It's not to late to join the fun!