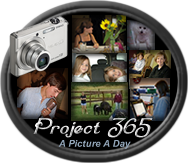 A Picture a day for 365 days...a year's worth of fun!

I hope you have as much fun seeing a peek into my week as I am posting about it!
Monday~038/365
I think Colin took this picture of me on early Monday morning making lunches!
The boys eating breakfast. We are usually all up for school by 6:45am and leaving for school by 7:30am. I teach at the school where they attend, so they get their early cuz I have to get there early! They are such troopers! For whatever reasons...they (Ryan included) always eat their cereal with the box right in front of them...morning reading I guess!

Wednesday~40/365
Cheer practice...these are my 2 high school helpers, Silvia & Courtney. They are great...I wouldn't be able to coach without them...they are my suedo body!

Thursday~041/365
Ryan was in Vegas this weekend for the Nike Coaches convention and this is the note I found from him when I got home from school the afternoon he left. He, along with 5 other coaches, left Thursday after school and should be back this afternoon...he was missed!
Friday~042/365
Rough housing before bedtime...usually a daily occurrence! Love those smiles!
Saturday~043/365
An after basketball Saturday afternoon treat! They both had a great game and their team came away with a VICTORY! Way to go Purple Vipers!

This is what Sara says on her blog about Project 365...
"I am attempting to take one photograph each day of this next year. My hope is to be able to slow down and see the small things, become a better photographer and to be reminded of the many blessings God sends my way!"
Well said Sara...thanks for letting me tag along!
Join in with Sara...It's not to late to join the fun!