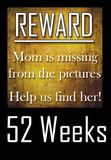 Are YOU a mom? Are YOU missing from the pictures? Most moms I know are, but here is a fun meme that brings us moms out from behind the camera and puts US in the spotlight! Carin over at
Forever in Blue Jeans
is the hostess of this year long picture project; and just think, after a year, you will have at least 52 pictures with you in them! It can be scary, but com'on, give it a try! It's easy, all you have to do is hand over the camera and smile (or not, it is completely up to you!!). And the best part is, you can jump in and start whenever; for me this will be my 44th week!
Due to lack of pictures this week...I went hunting in my photo files and found these football family photos!! The above photo was taken at the boys' last football game and the photo below was taken at Ryan's last football game.
I know you have been missing football posts...so I did this post for you.

You're welcome!!
Now it's your turn to join the fun...hand the camera over, say cheese, and smile!