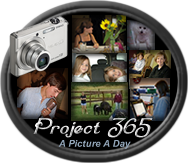 A Picture a day for 365 days...a years worth of fun!

I hope you have as much fun seeing a peek into my week as I am posting about it!
Colin sleeping on top of Ryan...I am going to start off this week with a sleeping picture and end the week with one as well!
Tuesday~024/365

Lego's came out this week....we go in spurts...sometimes it is months until they make a mess on my den floor...all 3 boys (yes, Ryan included) had lots of fun building with them all week long!

Wednesday after cheer practice...Colin stopping for a pic with WCHS cheer helpers Silvia & Courtney
Thursday~026/365
Brendan lost a tooth
Friday~027/365


Saturday~028/365
After the boys' game we headed here for a sweet treat with Aunt Jen, cousin Kennedy, Grandma, Grandpa and good friend Drea.
Sunday~029/365

Caught sleeping in my bed!
This is what Sara says on her blog about Project 365...
"I am attempting to take one photograph each day of this next year. My hope is to be able to slow down and see the small things, become a better photographer and to be reminded of the many blessings God sends my way! "


Well said Sara...thanks for letting me tag along!


Join in with
Sara
...It's not to late to join the fun!