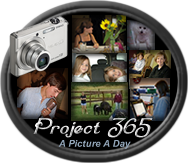 A Picture a day for 365 days...a year's worth of fun!
I hope you have as much fun seeing a peek into my week as I am posting about it!

Sunday~072/365
Celebrating Brendan's birthday with Grandma, Grandpa, Aunt Jun & Kennedy at Red Robin...YUM!

Monday~073/365
I went to my mailbox to find this...I heart my mailman...but I heart my bloggy friends more! A few weeks ago I won this fun assortment of things from Leslie over at Peachy Keen when she was the hostess with the mostess of a Free 4 All Friday! Thanks Leslie...I am totally loving the sparkly headbands!!
Tuesday~074/365
The boys needed new shoes....
so
the boys got new shoes!
Wednesday~075/365
Brendan's tough boy faux hawk!

Thursday~076/365
Please don't ask me to do anything for you in April...my month is pretty much full!

Friday~077/365
Flag football season has started in our District...and if there is football...there's got to be cheerleaders...right?!

Saturday~078/365
Saturday night me and the boys went to the Coyotes hockey game with my friend Crystal. Thanks Crystal...we had a
BLAST
...but more about that on Thursday!
This is what Sara says on her blog about Project 365...
"I am attempting to take one photograph each day of this next year. My hope is to be able to slow down and see the small things, become a better photographer and to be reminded of the many blessings God sends my way!"
Well said Sara...thanks for letting me tag along!
Join in with Sara...
It's not to late to join the fun!