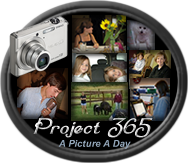 A Picture a day for 365 days...a year's worth of fun!
I hope you have as much fun seeing a peek into my week as I am posting about it!
Sunday~079/365
OK...I know I have already posted this picture
here...
but I accidentally deleted all of my Sunday pictures
...I know right...
but anyways...
I reposted this one so I had a Sunday picture!
Moving on...
Monday~080/365
Monday evening we had some visitors...one of whom was this fun pup...Daisy! Colin loved all of the puppy kisses
...xxxxx....
Tuesday~081/365
I love getting these teaching magazines in the mail...they have some great helpful hints! The only down side is that they only come every other month!
Wednesday~082/365
Wednesday Night's game vs the Giants...not sure what Colin was thinking at this moment! Sadly the Indians lost 13-14...their only loss of the season.
Thursday~083/365
One of my favorite desserts...warm baked chocolate chip cookies with whipped cream...
YUM!
Friday~084/365
Even though we now live in AZ and are Coyotes fans when they DON'T play the Red Wings...the RED WINGS are playing the COYOTES in the first round of the play offs...and once a RED WINGS fan...always a RED WINGS fan! Let's GO RED WINGS...clap..clap...clap....clap...clap...

Saturday~085/365
Brendan & Colin played game 6 vs. the Tigers this morning and WON!! YaY Indians! With this meme I am really trying to find fun ways and angles to take pictures...and please note that all of my pictures are straight out of the camera...I hate to edit!

And then after the game...It was off to the grocery store for me! We are 'eating out of the pantry' which means we eat all of the food until it is gone and it is gone!!! So MAJOR grocery shopping was in order...Sam's Club AND Fry's!
This is what Sara says on her blog about Project 365...
"I am attempting to take one photograph each day of this next year. My hope is to be able to slow down and see the small things, become a better photographer and to be reminded of the many blessings God sends my way! "


Well said Sara...thanks for letting me tag along!
Join in with
Sara
...It's not to late to join the fun!