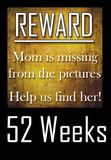 Are YOU a mom? Are YOU missing from the pictures? Most moms I know are, but here is a fun meme that brings us moms out from behind the camera and puts US in the spotlight! Carin over at Forever in Blue Jeans is the hostess of this year long picture project; and just think, after a year, you will have at least 52 pictures with you in them! It can be scary, but com'on, give it a try! It's easy, all you have to do is hand over the camera and smile (or not, it is completely up to you!!). And the best part is, you can jump in and start whenever; for me this will be my 52nd AND LAST WEEK!
WCHS Jr/Sr Prom was this past Saturday (April 10) and Ryan and I were lucky enough to chaperone...well he might not think it's luck, but I had fun! This is our 2nd year to double date with another coach and his wife.

And something else special was that I was able to 'play mom' to 2 of Ryan's students as well...so much fun...I took them to get their hair done, their toes done and see them off! And then we were lucky enough to see them at the dance as well!

Silvia & Ryan
me & Silvia

Drea & Ryan
me & Drea
Hud & Dawn
me & Ryan
me & Dawn
This is Ryan's TA and one of the football managers, Mitzy. She is the sweetest gal and her dress was ggooorrrgeous!
The theme of the prom was A Night in New York. It was a fun night, although much too short by my standards (8-11pm), and dinner was so very yummy. The 4 adults went to My Big Fat Greek Restaurant. All in all it was a fun night!
Now it's your turn to
join
the fun...hand the camera over, say cheese, and smile!!