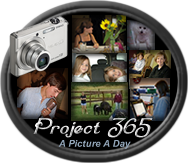 A Picture a day for 365 days...a year's worth of fun!
I hope you have as much fun seeing a peek into my week as I am posting about it!
Sunday~086/365
Our weather has been warming up these last few weeks...but this week was something to talk about...mid 90's at the beginning of the week and mid 50's by the end of the week...very un-arizonza-like!! But on Sunday it was warm enough to try out the pool...Ryan and the boys actually got into the water...me...I just put me feet in! It will be warm enough in no time...so bring your suits and com'on over!

Monday~087/365
Colin playing video games in our bowl chair
YES...Tuesday was by birthday...I turned 37...gasp!! AND of course I wore my tiara all day!!

Wednesday~089/365
I got to go shopping for my birthday...some of my finds!
oooohhhhh....it was sosososo cold on Thursday...well cold by AZ standards anyways!! I was outside for HOURS Thursday evening due to a baseball game AND football game (that my girls cheered at) so when I got home at 9pm...I was a Popsicle!! I had myself a huge mug of steaming hot chocolate...yummy!
Friday~091/365
Ryan's birthday was in March and my birthday was this past Tuesday...so for our birthday presents to each other....we went to the Red Wings-Coyotes playoff hockey game at Jobing.com arena on Friday night! When the Yotes don't play the Wings...you can bet that I sport a Coyotes jersey...but once a Wings fan...always a Wings fan...and how fun that they WON...4-1!! They play in Detroit today...game 6...LET'S GO RED WINGS!!

Saturday~092/365
Saturday the boys played game 8 of their season and sadly they lost to an undefeated team...this is Colin after striking out...but this is actually how the entire team looked after the final out! Get'em next time Indians!

This is what Sara says on her blog about Project 365...
"I am attempting to take one photograph each day of this next year. My hope is to be able to slow down and see the small things, become a better photographer and to be reminded of the many blessings God sends my way! "

Well said Sara...thanks for letting me tag along!
Join in with Sara...It's not to late to join the fun!