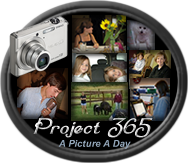 A Picture a day for 365 days...a year's worth of fun!
I hope you have as much fun seeing a peek into my week as I am posting about it!

Sunday~072/365
The flowering of the cross at church on Easter Sunday


Monday~073/365
Mini basketball net and ball: $1.00 ~ Hours of fun: priceless
Tuesday~074/365
Can it get any yummier?!
Wednesday~075/365
Brendan & Sean...friends since birth
Fat guy in a liitttlllle coooaat!
Ryan finding and trying on his letter jacket from 18 years ago!
Indians 12 - Braves 5
V.I.C.T.O.R.Y.


Saturday~078/365
WCHS Prom...Ryan was the keeper of shoes, purses, and coats - technically there were at one time 8 pairs of shoes, 2 purses, and 4 coats.
More prom pictures to come....stay tuned! :)


This is what Sara says on her blog about Project 365...
"I am attempting to take one photograph each day of this next year. My hope is to be able to slow down and see the small things, become a better photographer and to be reminded of the many blessings God sends my way!"

Well said Sara...thanks for letting me tag along!
Join in with Sara...
It's not to late to join the fun!