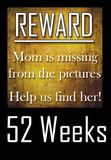 Are YOU a mom? Are YOU missing from the pictures? Most moms I know are, but here is a fun meme that brings us moms out from behind the camera and puts US in the spotlight! Carin over at Forever in Blue Jeans is the hostess of this year long picture project; and just think, after a year, you will have at least 52 pictures with you in them! It can be scary, but com'on, give it a try! It's easy, all you have to do is hand over the camera and smile (or not, it is completely up to you!!). And the best part is, you can jump in and start whenever; for me this will be my 51st week!
So last Saturday the boys and I got invited to attend a Coyotes hockey game with my friend and colleague, Crystal. She and her hubby are regular season ticket holders and a few times a year they have the chance to get more tickets...so they took them and gave them to us! Before heading to the arena, he went to Native New Yorker for some yummy grub!
This was on our way into the hockey arena...
...we got to walk through the coyote's mouth to get to the doors!
Crystal and I before the game

Here are the boys enjoying dippin' dots! They were so excited...they bought it with their own money...money they earned from their grandparents for getting all A's on their report cards!

This is my future hubby...Shane Doan!!
And here are the boys acting crazy and dancing with all of their might trying to get on the jumbo tron...sadly they never made it to the big screen! You see they actually sat a few rows ahead of us...which they thought was so very cool and every time the music came on, I was able to get some fun shots! They made friends with the boy sitting next to them!

The boys and I after the WIN...that's right they came away with a win...in overtime...in a shootout!! So very exciting!
One last shot of the boys before heading home!
Thanks Crystal for a super fun night!


Now it's your turn to
join
the fun...hand the camera over, say cheese, and smile!!