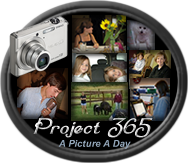 A Picture a day for 365 days...a year's worth of fun!
I hope you have as much fun seeing a peek into my week as I am posting about it!

Sunday~ 044/365
Sunday Ryan got home after being gone for 4 days to Vegas for a coaching convention. Colin is such a daddy's boy and the attention Ryan received from him after getting home...one would have thought he was away for months!!

Monday~045/365
...and so starts our school spirit week! Monday was crazy hat day in honor of Dr. Seuss' Cat in the Hat.
Tuesday~046/365

Tuesday instead of practice we had cheer pictures. I was the photographer, well tried to be the photographer and took fun group shots as well as 3 different individual shots of each girl. Our yearbook advisor came out and took our group shot for the yearbook too!
Wednesday~047/365
...wacky Wednesday!!
Thursday~048/365

...Fox in Socks can only mean crazy sock day!
Friday~049/365
Our cheer squad right before our boys team played in the championship game...unfortunately they lost by 4...it was a great game! Better luck next year! This was our last game of the basketball season...we start football at the end of March. (we have football in the spring here for our district because of soccer season in the fall and they use the same fields..weird I know!)
Saturday~050/365

The boys and their coach after their game yesterday. Sadly they lost by 3, but they had a great season! Now onto baseball season!
This is what Sara says on her blog about Project 365...
"I am attempting to take one photograph each day of this next year. My hope is to be able to slow down and see the small things, become a better photographer and to be reminded of the many blessings God sends my way!"
Well said Sara...thanks for letting me tag along!
Join in with
Sara
...It's not to late to join the fun!