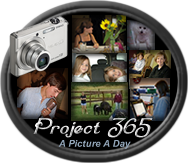 A Picture a day for 365 days...a year's worth of fun!
I hope you have as much fun seeing a peek into my week as I am posting about it!

Sunday~065/365
I took the boys to see The Diary of Wimpy Kid. It was very cute and the boys loved it! They have both read all of the books in the series including the newest movie edition.


Monday~066/365


Brendan bought this hat with his own money...his birthday money! I am not sure why his is so in love with the Dallas Cowboys...but that is HIS team!

Tuesday~067/365
Fresh warm cookies...right outta the oven...YUM!

Wednesday~068/365
Celebrating Ryan's birthday at one of our favorite pizza places!


Thursday~069/365

The boys getting in a game before bed...payday is a favorite.

Friday~070/365
Friday Colin and I headed back to PCH for a follow up EEG. We have another appointment with Dr. B, his neurologist, on Thursday for the results.
Saturday~071/365
Even though the boys have had a few baseball games already....Saturday was the official kick off to our city's baseball season. It's called Cal Ripken Day at the ballpark. They (all of the kids involved in little league) get to walk out on the warning track before a spring training game and since Ryan is one of the coaches, he got to go too!


This is what Sara says on her blog about Project 365...
"I am attempting to take one photograph each day of this next year. My hope is to be able to slow down and see the small things, become a better photographer and to be reminded of the many blessings God sends my way!"
Well said Sara...thanks for letting me tag along!
Join in with Sara...
It's not to late to join the fun!