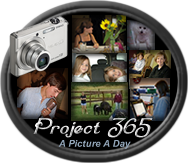 A Picture a day for 365 days...a year's worth of fun!
I hope you have as much fun seeing a peek into my week as I am posting about it!

Saturday~057/365
Nannie's picture in a ring of flowers at the Alter of the church for her memorial service.

Sunday~058/365
My dad and cousin's little girl, Sydney, playing games on Sunday. We spent the day hanging out with family at my aunt's house. It was great to see everyone. This is one smart little cookie...(Sydney that is!) she is only 3 years old and already knows all of the letters and sounds...I want her in my kinder class!!
Monday~059/365
Monday afternoon I was dropped off at Mimi's house for the night! I was so excited to see my godson Stunt Man! He had all sorts of fun things planned for us including a sleep over with me in the basement! I couldn't get enough of his cuddles and smiles and laughter and hugs and kisses and....EVERYTHING!


Tuesday~060/365
With Mimi's 3 kiddos in school on Tuesday we were able to sneak in a few hours shopping at my new obsession...HOBBY LOBBY!! And then we picked up this cutie and headed to the park! After, we grabbed lunch at home with block building and puzzle making. Right before I had to head back to my Aunt's house, we went to Cold Stone for a yummy treat! I love this guy with all my heart! I am his 'godmudder'!

Wednesday~061/365
Happy 10th Birthday to my St. Patty's Day birthday boy Brendan!

Thursday~062/365
I was able to love on the cutie, baby Z, while his mom and I feasted on Panda Express for lunch!


Friday~063/365
The weather has turned into sandal weather...meaning painted toes and new black sandals are a must! You like??!
Saturday~064/365
Spring means baseball in these parts...and the season begins! Thankfully the boys are on the same team this season and as a bonus Ryan is one of their coaches! This is on our way to our first game vs. the Rays...the Indians came away with a win...9-5. (Colin is #8 & Brendan is #7)
This is what Sara says on her blog about Project 365...
"I am attempting to take one photograph each day of this next year. My hope is to be able to slow down and see the small things, become a better photographer and to be reminded of the many blessings God sends my way!"
Well said Sara...thanks for letting me tag along!

Join in with
Sara
...
It's not to late to join the fun!