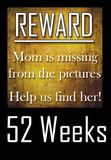 Are YOU a mom? Are YOU missing from the pictures? Most moms I know are, but here is a fun meme that brings us moms out from behind the camera and puts US in the spotlight! Carin over at
Forever in Blue Jeans
is the hostess of this year long picture project; and just think, after a year, you will have at least 52 pictures with you in them! It can be scary, but com'on, give it a try! It's easy, all you have to do is hand over the camera and smile (or not, it is completely up to you!!). And the best part is, you can jump in and start whenever; for me this will be my 46th week!
This picture was taken this past Monday! The school where I teach and the boys attend held it's annual School Spirit Week in honor of Dr. Seuss' birthday and March which is Read Across America month. We have such fun dressing up. For last year's spirit you can go here! They changed things up a bit this year and themed each day according to one of Dr. Seuss' loved books!
Monday was Cat in the Hat day...wear your favorite hat
Tuesday was Thing 1 & Thing 2 day...dress as twins with a friend
Wednesday was Wacky Wednesday...wacky tacky day
Thursday was Fox in Socks...crazy socks day
and Friday is dress as your favorite Dr. Seuss character!
The boys and I have really gotten into it but I will be posting more about that later!
Now it's your turn to join the fun...hand the camera over, say cheese, and smile!!