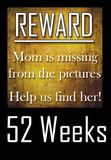 Are YOU a mom? Are YOU missing from the pictures? Most moms I know are, but here is a fun meme that brings us moms out from behind the camera and puts US in the spotlight! Carin over at
Forever in Blue Jeans
is the hostess of this year long picture project; and just think, after a year, you will have at least 52 pictures with you in them! It can be scary, but com'on, give it a try! It's easy, all you have to do is hand over the camera and smile (or not, it is completely up to you!!). And the best part is, you can jump in and start whenever; for me this will be my 47th week!
Last week was cheer pictures! Our basketball season has come to an end, but our football season will be starting up soon along with our competition in May. Above is our team photo and below is me and Veronica...we co-coach; I couldn't do it without her!
Now it's your turn to
join
the fun...hand the camera over, say cheese, and smile!!