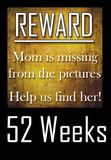 Are YOU a mom? Are YOU missing from the pictures? Most moms I know are, but here is a fun meme that brings us moms out from behind the camera and puts US in the spotlight! Carin over at
Forever in Blue Jeans
is the hostess of this year long picture project; and just think, after a year, you will have at least 52 pictures with you in them! It can be scary, but com'on, give it a try! It's easy, all you have to do is hand over the camera and smile (or not, it is completely up to you!!). And the best part is, you can jump in and start whenever; for me this will be my 48th week!
This is my Nannie & Papa on their wedding day in 1944...aren't they so handsome?! I am not sure if you can see....but my Nannie is wearing some very beautiful pearls...
...a few years ago, she decided to break up her necklace and make 5 pearl bracelets...one for each of her 5 granddaughters. We all wore them to her memorial service this past Saturday.
I am so thankful and grateful that I have this beautiful bracelet as a daily reminder of her.
And here we are trying to get the above picture...very silly I know!
From L to R...my cousins Trish, Laura, Sue, Me and my sister Jen.
Thanks mom for snapping this beauty!!
Now it's your turn to
join
the fun...hand the camera over, say cheese, and smile!!