First and foremost I would like to wish a very special Happy Mother's Day to MY MOM!! You are the best and I hope that you have the best day ever!! Thanks for all that you do! I love you!
And of course I am the luckiest mommy alive to have these 2 in my life!! Couldn't imagine it without their whirlwinds of chaos happening!! (and thanks to my wonderful hubby for helping me to be a great mommy!)
And last but not least Happy Mother's Day to my Mother-in-Law Laurie...she is a great mom and gramma! Hope you have a fantastic day and we can't wait to see you this summer!!
Wishing ALL of the moms out there a FANTASTIC MOTHER'S DAY!!!
And now unto....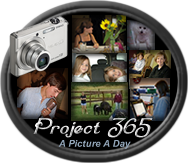 A Picture a day for 365 days...a year's worth of fun!
I hope you have as much fun seeing a peek into my week as I am posting about it!

Sunday~100/365
My parents used to be snow birds...living 6 months in AZ and 6 months in MI...but last fall they became full time AZ residents. They had a cute little house not far from ours, but my dad decided that he needed a little bit bigger one...so they bought another one this past month! They are a little nervous but VERY excited! It is in the same complex that they live in now so they are still nice and close...which I love...ya know to see them (and for babysitting!!)



Monday~101/365
This past week was the start of spring football for Ryan and his WCHS Wildcats!!! Over 100 kids came out which made all of the coaches very very excited!! But once again for all of the football wives
...we have become football widows again...
at least for 2 weeks anyways!
Tuesday~102/365
Today we mailed in Colin's summer camp application! Since being diagnosed with Epilepsy he qualifies for Camp Candlelight, a summer camp specifically for kids with Epilepsy. He is so very excited!!
Dinner...$5 pizzas...'nuff said!

Thursday~104/365
Thursday was
CRAZY
busy
...school, cheer practice, bell/choir practice, baseball game, football practice, and then bell/choir concert
! So after I got everyone where they needed to go, I was able to sit and enjoy Brendan at his concert...he is a bell ringer in the hand bell choir at school!! They all did a great job!
Friday~105/365
So excited to find this in my mailbox today!! It is a bday gift from Tarah at
Eyeglasses & Endzones
!! Not only is she a bloggy friend she is also
Mimi
's cousin and my IRL friend and makes fun camera straps!
I love it...Thanks Tarah!!!
(and it's already on my camera!)


Saturday~106/365
Saturday my cheer squad competed in our district's cheer competition. There were 20 schools performing in over 60 performances! They have been working very hard all season for this day!It was a
LLLLOOONNNGGG
day
...9am-2:30pm...
but their hard work payed off!
They took 2nd place in Performance Cheer and 3rd place in Pom!
THEY DID FANTABULOUS!!
My co-coach and I are so very proud of these girls!

This is what Sara says on her blog about Project 365...
"I am attempting to take one photograph each day of this next year. My hope is to be able to slow down and see the small things, become a better photographer and to be reminded of the many blessings God sends my way! "

Well said Sara...thanks for letting me tag along!
Join in with Sara...It's not to late to join the fun!