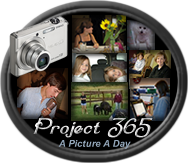 A Picture a day for 365 days...a year's worth of fun!
I hope you have as much fun seeing a peek into my week as I am posting about it!

Sunday~107/365
These are the wonderful gifts I got from my guys on Mother's Day!! All 3 picked out the DKNY 'Red Delicious' perfume, Brendan gave me 'a cup of tea' and Colin wrote me a book of poetry! My cup runneth over...
Monday~108/365
Happy Birthday to my baby...Colin Boy...he turned 9...where did the time go?!
Tuesday~109/365
Tuesday was field day at our school...fun was had by all! And the best part was that I was able to sneak away from my class for a few minutes to find Brendan and Colin with their classes and snap a few pics...cuz what kind of mom would I be if I didn't have any pictures of them on their fun field day!!
So anywho...
this is Brendan and his friend
'trying'
to run the 3 legged race...boy they had
NO
coordination! I tried to tell them how to do it...but I think they were having more fun
hopping, tripping, falling, crawling, and laughing
to listen to me!!
Wednesday~110/365
Wednesday afternoon game...Colin catching...sadly they lost to the Dodgers 8-2.
Thursday~111/365
A nice surprise from my mom...she bought me new brown sandals! Lov'em...Thanks Mom!
Friday~112/365
Friday Colin's class had their multiplication test ice cream party...here is how it works....through out the year they are able to test their skills on multiplication facts...one sheet done in one minute. When they get a 100% on the test they move onto the next fact...starting with 0 and working to 12. For every test they pass with 100% they earn an item for their ice cream party. The items they were able to earn included...bowl, spoon, banana, up to 3 scoops of ice cream, whipped cream, chocolate sauce, caramel sauce, sprinkles, gummy bears and a cherry. Colin earned them all and this is the banana split sundae he enjoyed...the fruits of his labor if you will!

Saturday~113/365
Saturday I had a Girls Day In and Out with some other coach's wives! We all met at my house with food and drink to hang out by the pool and hot tub and then we got cleaned up and headed to dinner at My Big Fat Greek Restaurant...soo yummy!! What a great Saturday hanging with my girls!


This is what Sara says on her blog about Project 365...
"I am attempting to take one photograph each day of this next year. My hope is to be able to slow down and see the small things, become a better photographer and to be reminded of the many blessings God sends my way! "

Well said Sara...thanks for letting me tag along!
Join in with Sara...It's not to late to join the fun!