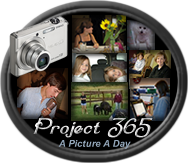 A Picture a day for 365 days...a year's worth of fun!
I hope you have as much fun seeing a peek into my week as I am posting about it!

Sunday~121/365
Sunday we spend most of the day playing Wii. Baseball, boxing, tennis and my favorite bowling! Would you like to Wii?
Monday~122/365
With it being summer vacation, Brendan has been staying up a little later and getting up a little later each morning...here are his feet sticking out from his comforter.
Tuesday~123/365
Our friend Drea got a new puppy from her boyfriend for her HS graduation! She is just the cutest little thing ever..her name is Molly and she almost makes me want a dog...
I said almost!

Wednesday our friend (and the head football coach where Ryan coaches) had to have knee surgery, so the boys and I went over to sit with the kids. After an afternoon of swimming, movie watching and video game playing we headed to church for dinner and service! I do not envy those moms with 5 kiddos!! Hats off to you!
Thursday~125/365
Last minute picture right before heading to bed and yes this was my before bed snack...I was craving chocolate and this was the only thing I had in the house!! It was actually very tasty!
Friday~126/365
Friday night we headed to the drive-in. Lots of fun...but I will post more on that next week!
Saturday~127/365
My foot next to Ryan's foot...nice tan buddy! (that is the true tan of a football coach!)
This is what Sara says on her blog about Project 365...
"I am attempting to take one photograph each day of this next year. My hope is to be able to slow down and see the small things, become a better photographer and to be reminded of the many blessings God sends my way! "


Well said Sara...thanks for letting me tag along!
Join in with
Sara
...It's not to late to join the fun!