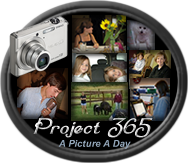 A Picture a day for 365 days...a year's worth of fun!
I hope you have as much fun seeing a peek into my week as I am posting about it!

Sunday~114/365
Ryan's silhouette eating a popsicle! (a left over treat from my GDO!)
Monday~115/365
Monday was our end of the year awards ceremonies at school...AND...Brendan cleaned up! He received 3Q Principal's honor roll (all As) & 4Q honor roll (all As & Bs) and 2nd semester honor roll and entire year honor roll! He had a fabulous 4th grade year! So proud of him!
I was not feeling my best Monday so I came home from school and headed straight to bed...this is what I woke up to on Tuesday morning...
lucky me
...
don't be jealous!
Wednesday~117/365
Wednesday on my way home from school I stopped by Sam's Club and picked up
120
cupcakes
(that's a lot of cupcakes!)
for our end of the school year celebration on Thursday morning!
Thursday~118/365
Thursday was our last day of school
...(whoo hoo)...

I woke the boys up early for
2
reasons
...1...
so I could get to school early to set up for my day
...and 2...
to get last day of school pics so I could blog! Brendan was
NOT
happy to be up that early!
The things my kids do for my blog!!

Friday~119/365
My last work day of the school year...I cleaned up and put away my entire kinder room...and this was my partner in crime's last day...she is taking a leave of absence to be a SAHM...happy for her...sad for me!

Saturday~120/365
Our first TRUE day of summer vaca!! We always start our vacas with a tradition of breakfast at IHOP and then we headed to WalMart to get some new pool toys for the pool and then of course we had to come home...blow'em up and take a dip!
This is what Sara says on her blog about Project 365...
"I am attempting to take one photograph each day of this next year. My hope is to be able to slow down and see the small things, become a better photographer and to be reminded of the many blessings God sends my way! "


Well said Sara...thanks for letting me tag along!
Join in with
Sara
...It's not to late to join the fun!